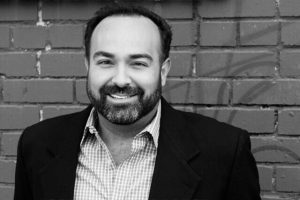 Moz Mirbaba's career path includes stops at ad agencies DDB (Hong Kong and Dallas), McGarrah-Jessee (Austin), and The Integer Group (Denver), and on the client side at HealthAware, Choice Solutions Services, AT&T Broadband and internet start up Kickstart.com. He has extensive digital media and branding experience both as a VP of Marketing and as an agency founder.  Through his diverse career in marketing and advertising he discovered that combining art and commerce was an untapped resource in today's fast moving business climate.  Moz received his MBA from the University of Colorado, and acquired two bachelors degrees in Marketing and Organizational Behavior from Southern Methodist University.
Currently Moz serves as an Executive Vice President for Choice Solutions Services (CSS)- a insurance claims risk management firm. CSS owns and operates several vertically integrated businesses under its corporate umbrella. Moz leads Marketing, HR and compliance for its subsidiaries and works with each business's stakeholders on achieving their goals. Under CSS there are four vertically integrated businesses.  These firms include Choice Field Services a national property and casualty insurance claims management firm with a workforce of over 1000 personnel, focused on daily and catastrophe claims,  Choice TPA a risk management firm overseeing insurance risks for self-insured Fortune 1000 companies and Government municipalities including Denver Water and the State of Colorado. Choice Sector a disaster and damage inspection firm working with local and state governments including FEMA and HUD. Lastly, Vennd Technologies a SaaS developer of technology solutions for insurance carriers, independent adjusting firms and third party administrators.
From 2016 – 2018, Moz served as VP of Marketing for HealthAware, a health risk assessment company focused on blending behavioral science with digital therapies for healthcare systems and blood donation centers. During his tenure he transformed the marketing and branding. He rebranded the company, implemented direct to market sales campaigns, developed messaging for public relations, and fostering marketing partnerships resulting in 50% incremental revenue growth from existing and new clients during his tenure. One key marketing partnership he developed led to HealthAware's acquisition in 2020.
From 2002 – 2016, Moz was the Co-Founder and Managing Partner of Windowseat (a content marketing agency & entertainment studio focusing on content marketing, entertainment (films), and experiential events). During his tenure at Windowseat, Moz opened offices in Los Angeles, Burbank, Orange County, and Denver, Colorado. He expanded Windowseat  globally with ICOM-the leading independent marketing and advertising communication network to more than 65 countries.
As Co-Founder of Windowseat –  Moz has led the organization from its humble beginnings into an award winning and multi-million dollar agency studio. Moz has personally managed and developed marketing strategies, fostered client relationships, created integrated digital campaigns, and new product launches. He developed results-oriented marketing with a keen understanding of strategy, technology, its deployment, and use in brand building, business development, and social media for: Vans, Quiznos, Mattel, Lucas Film LTD, Camelbak, Anheuser – Busch, Nike Snowboarding, Billabong, Converse, Hyundai, Apple, Panasonic, General Mills, The Palms Hotel, Reef, CBS, NBC Sports, & 20th Century Fox.
Moz has had the opportunity to work with the leading global brands in their respective categories. During his tenure at Windowseat, he was responsible for marketing strategy, driving business development, P&L, content development, overseeing operations, production, and managing teams in multiple offices. He grew the company with his partners with multiple business units focusing on content marketing, feature films, experiential, media distribution, and video production.  Moz exited the Windowseat in 2016  to pursue other career opportunities.
Moz currently resides in Denver, Colorado with his two daughters and he enjoys to get out of the office and hone in his skill as a snowboarder, golfer, and home improvement handyman projects. 
His passions include snowboarding, Broncos football, sushi, the ocean, music shows, traveling, tinkering with classic cars, wood working, and spending time with his family and friends.